The Redwood Empire Joint Apprenticeship & Training Committee (REJATC) is a member of the Electrical Training Alliance, a nonprofit organization established in 1941 by the International Brotherhood of Electrical Workers (IBEW) and the National Electrical Contractors Association (NECA).
The mission is to develop and standardize educational opportunities for members of IBEW-NECA, thereby providing the electrical construction industry with the most highly trained workforce in the world. The training alliance has developed into the largest apprenticeship program of its kind, having successfully trained over 350,000 apprentices through professional Journeyman status.
IBEW Local 551 and its Redwood Empire Electrical Training Center, located in downtown Santa Rosa, serve Northern California communities from "the Golden Gate to Oregon State." The region includes Del Norte, Humboldt, Lake, Marin, Mendocino, and Sonoma counties. Our graduates are prepared for a career anywhere in the IBEW, which includes the United States, Canada, Panama, and Guam.

At present, we're working to retrofit our 27,000 square-foot training facility to be zero net energy. This initiative means that our buildings will utilize new technologies and renewable power generation to achieve energy independence.
By consuming less energy than what we conserve and generate onsite, the REJATC aims to be an example for updating our region's infrastructure. Together, we can meet our long-term state and national sustainability goals, in building a vibrant economic future.
Training Center & Schedule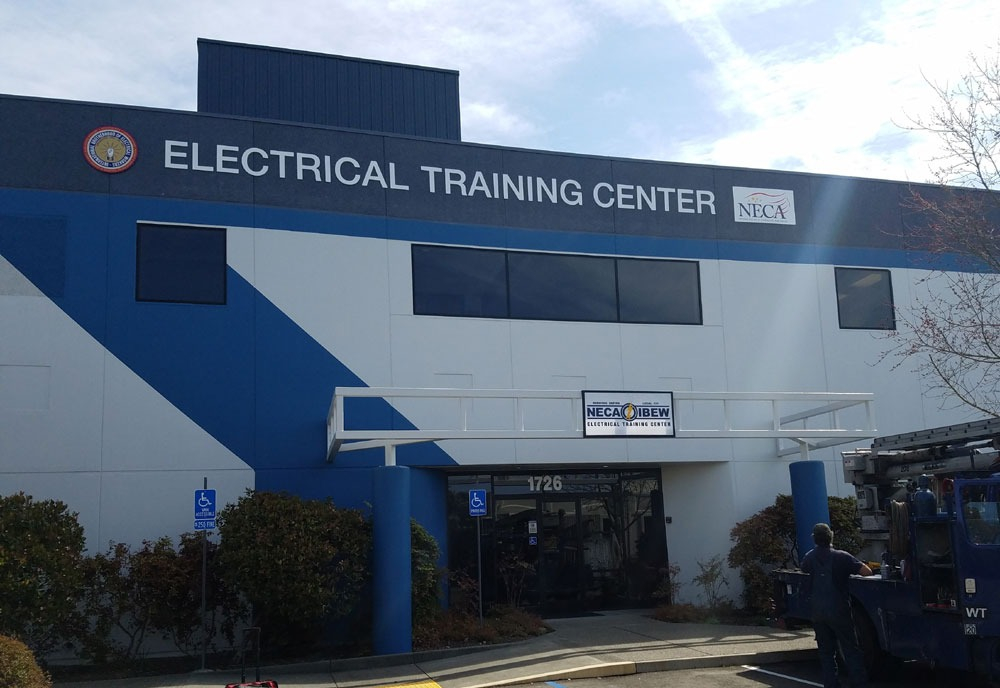 Redwood Empire Electrical Training Center (Santa Rosa, CA)
A schedule of classes for the training center may be found in the calendar, below, and also here. 
The REJATC is closed on the following holidays: New Year's Day, Martin Luther King Jr. Day, Presidents Day, Memorial Day, Independence Day, Labor Day, Veterans Day, Thanksgiving Day (two days), and Christmas Day.
Committee Members
     John McEntagart, Chairman, Business Manager IBEW Local 551
     Anisa Thomsen, Co-Chair, Executive Director NECA 
     Nick Paglia, Trustee, President IBEW Local 551
     Jared Mumm, Trustee, Business Representative IBEW Local 551
     Patrick Wheeler, Trustee, IBEW Journeyman Wireman
     Jim Chiappari, Trustee, NECA (Owner, Northern Electric)
     Jolene Corcoran, Trustee, NECA (Owner, Lunardi Electric)
     Ed Gugel, Trustee, NECA (Owner, R. McClure Electric)
Training Director
     Rob Barsi

Instructors, Inside Wireman Program
     Tom Ritch
     Brandon Cunningham
Instructor, CW Program
     Kyle Buckhorn
Examining Board
     Joe Cimino
     Brian Kelly